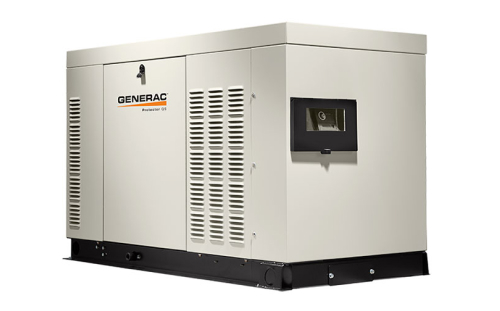 Generac 22kW Industrial Generator
Generac 22kW Protector QS
Brand: Generac
Equipment Price: starting at $10997
The Generac 22kW Protector QS model, available through Carolina Energy Systems, is a robust and efficient industrial generator designed to provide reliable standby power for industrial and commercial applications. Highly esteemed by our clients, this Generac generator model guarantees uninterrupted power supply to critical equipment and systems in the event of unforeseen power disruptions. Carolina Energy Systems offers sales and installtion of the Generac 22kW Protector QS generator, supported by our extensive knowledge and unwavering dedication to delivering dependable power solutions for businesses and industries.
Engineered to run at only 1800 rpm for substantially quieter performance, the low-speed, liquid-cooled engine on the Protector QS Series packs more power into a smaller footprint than air-cooled models. Enjoy reduced fuel consumption, and long engine and alternator life.
Delivers best-in-class power quality with less than 5% total harmonic distortion (THD) for clean, smooth operation of sensitive business electronics and appliances.
A cutting-edge, intuitive control. The Evolution controller features a multilingual, two-line LCD text display with color-coded, backlit buttons. It has received upgrades, including USB flash capability, smart battery charging, voltage adjustment, and backlit membrane pad-style buttons.
5-year limited warranty with extended warranty options are available. We are proud of our innovative product design, high quality and first-class reliability so we stand behind them with a strong 5, 7 or 10-year limited warranty.
Can Be Installed 18″ From a Structure
Ideal for areas with tight lot lines. Generac is the only manufacturer of standby generators to have 18" offset on most of its lineup.
Our RhinoCoat™ powder-coated finish helps make corrosion-resistant aluminum perfect for all weather conditions.
All backup generators run a weekly test to ensure the system is running properly. Thanks to Quiet-Test, your Protector Series generator runs its self-test at a lower, quieter RPM, and can be programmed to run weekly, bi-weekly, or monthly.
Mobile Link is the cellular remote monitoring system from Generac that allows business owners to check the status of their generator from anywhere in the world, using a computer, tablet or smartphone.
Improved stub-ups and electrical connection access decrease installation costs.
All connections are dual conductor rated, and the implementation of quick connects for the control wires, completely eliminates the need for crimping or lugging.
Improved customer connection access, which decreases installation costs.
Two-Line LCD Multilingual Digital Evolution™*
Controller (English/Spanish/French/ Portuguese) with external viewing window for easy indication of generator status and breaker position
True Power ™ Electrical Technology
Isochronous Electronic Governor
Sound Attenuated Enclosure
Closed Coolant Recovery System
Smart Battery Charger
UV/Ozone Resistant Hose
±1% Voltage Regulation
Natural Gas or LP Operation
5 Year Limited Warranty
UL 2200 Listed
SwRi@ listed INFPA37, clause 4.1 4.1.2)
Generator can be installed a minimum 18* distance from combustible wall*
*Only if located away from doors, windows, and fresh air intakes, and unless otherwise directed by local codes. Please review install guide for more details.