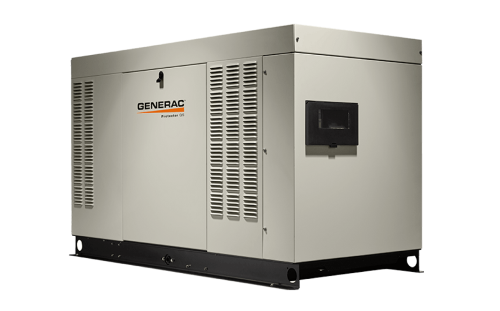 GENERAC 38KW INDUSTRIAL GENERATOR
Generac 38kW Protector QS
Brand: Generac
Equipment Price: starting at $15197
The Generac 38kW Protector QS model, available through Carolina Energy Systems, is a robust and exceptionally efficient industrial generator meticulously designed to provide reliable standby power for industrial and commercial applications. Highly regarded by our customers, this Generac generator model guarantees uninterrupted power supply to critical equipment and systems, even in the face of unforeseen power interruptions. Carolina Energy Systems is your trusted partner for the sales and installation of the Generac 38kW Protector QS generator, supported by our extensive expertise and unwavering dedication to delivering dependable power solutions for businesses and industries.
Engineered for Quieter Operation: The Protector QS Series features a low-speed, liquid-cooled engine that operates at only 1800 rpm, delivering significantly quieter performance compared to air-cooled models. This design not only reduces noise but also provides more power within a compact footprint, resulting in lower fuel consumption and extended engine and alternator lifespan.
Exceptional Power Quality: This series maintains best-in-class power quality with less than 5% total harmonic distortion (THD), ensuring a clean and smooth operation that is safe for sensitive business electronics and appliances.
Intuitive Evolution Controller: The Evolution controller showcases a modern design, featuring a multilingual, two-line LCD text display with color-coded backlit buttons. It also offers USB flash capability, smart battery charging, voltage adjustment, and backlit membrane pad-style buttons for enhanced usability.
Generous Warranty Coverage: Enjoy a 5-year limited warranty with the option for extended warranties, reflecting our confidence in the innovative product design, high quality, and top-tier reliability of our generators.
Installation Flexibility: These generators can be installed as close as 18″ from a structure, making them ideal for areas with limited lot space. Generac is the sole manufacturer of standby generators offering an 18″ offset on most of its lineup.
Durable Corrosion Resistance: Our RhinoCoat™ powder-coated finish ensures that the aluminum body is corrosion-resistant and well-suited for all weather conditions.
Quiet-Test Self-Testing: All backup generators run a weekly self-test to verify proper operation. With Quiet-Test, your Protector Series generator conducts this test at a lower, quieter RPM and can be scheduled to run weekly, bi-weekly, or monthly.
Mobile Link Remote Monitoring: Employ Mobile Link, Generac's cellular remote monitoring system, to check your generator's status from anywhere globally, using a computer, tablet, or smartphone.
Simplified Installation: Improved stub-ups and electrical connection access reduce installation costs. All connections are dual conductor rated, and the implementation of quick connects for the control wires eliminates the need for crimping or lugging.
True Power™ Electrical Technology
Two-line multilingual LCD Evolution™ controller (English/Spanish/French/Portuguese)
200 amp service-rated transfer switch available
Electronic governor
Standard Wi-Fi® connectivity
System status & maintenance interval LED indicators
Sound attenuated enclosure
Flexible fuel line connector
Natural gas or LP gas operation
5 Year limited warranty