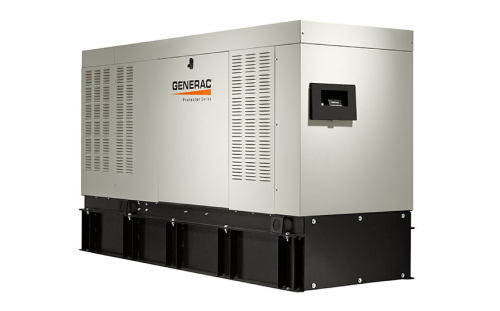 GENERAC 48KW INDUSTRIAL GENERATOR
Generac 48kW Protector QS
Brand: Generac
Equipment Price: starting at $19949
The Generac 48kW Protector QS model, offered by Carolina Energy Systems, is a robust and exceptionally efficient industrial generator meticulously engineered to deliver dependable standby power for industrial and commercial applications. Highly esteemed by our clientele, this Generac generator model ensures continuous power provision to critical equipment and systems, even in the event of unforeseen power disruptions. Carolina Energy Systems is your trusted partner for the sales and installation of the Generac 48kW Protector QS generator, supported by our extensive expertise and unwavering dedication to providing reliable power solutions for businesses and industries.
Evolution™ Controller: This advanced controller represents the next generation of intuitive control systems, equipped with a multilingual, two-line LCD text display and color-coded, backlit buttons for enhanced user experience.
Quiet-Test™ Mode: All standby generators perform a weekly self-test to verify their proper operation. With Quiet-Test, your Protector Series standby generator conducts its self-test at a lower, quieter RPM compared to standard operation, minimizing noise and disruption.
Mobile Link™ Connectivity: Mobile Link™ Connectivity allows you to remotely monitor your generator's status from anywhere worldwide using a smartphone, tablet, or PC. Easily access essential information, including the current operating status and the generator's maintenance schedule. You can also connect your account to an authorized service dealer for fast, friendly, and convenient assistance. Mobile Link™ comes standard with Protector Series 22 – 100 kW gaseous models and diesel (RD) models. The Wi-Fi device is included as standard on every Protector series generator except for the RG13090/RG15090 and the 130 – 150 kW gaseous models.
5-Year Limited Warranty: Our innovative product design, high quality, and top-class reliability are backed by a robust 5-year limited warranty, reflecting our confidence in the product's performance and durability.
Code Ready: The Protector Series offers compatibility with a variety of environments, featuring external vent and fill, a UL/CUL 142-listed double-walled base tank, a UL/CUL 2200-listed generator, and a wide range of code-driven accessories to ensure suitability for different applications and installations.
Two Line LCD Multilingual Digital Evolution Controller (English/Spanish/French/Portuguese) with external viewing window for easy indication of generator status and breaker position
Isochronous electronic governor
Sound attenuated aluminum enclosure
Smart battery charger
UV / Ozone resistant hoses
‡1% voltage regulation
Integrated base tank options are available with run times over 90 hours without having to refuel*
Five-year limited warranty
111 2900 / UL142 / ULC S601 Listed
Meets code requirements for external vent and fill