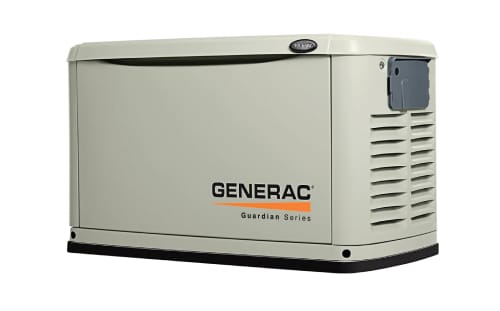 Generac 11kW Standby Generator
Brand: Generac
Equipment Price: starting at $3297
The Generac Guardian 11kW is a dependable standby generator designed to provide backup power for residential settings. One of Generac Generators' most popular models, this generator ensures essential appliances and systems remain operational during unexpected outages, offering homeowners peace of mind. Carolina Energy Systems offers the Generac Guardian 11kW, providing customers with a reliable and efficient power solution backed by our expertise in backup power systems.
Guardian Series Home standby generators come with Mobile Link™ Remote Monitoring, which is a free feature allowing you to keep track of your generator's status from anywhere in the world using your smartphone, tablet, or PC. With this, you can easily access important information like the current operating status and maintenance alerts.
The automatic standby generators are backed by a 5-year limited warranty for added peace of mind.
Generac's True Power™ Technology ensures top-notch power quality with minimal harmonic distortion (less than 5 percent). This results in clean and smooth operation, making it safe for sensitive electronics and appliances.
Generac takes pride in its USA-based engineering and assembly of generators and engines, using a mix of domestic and foreign parts.
Quiet-Test™ Self-Test Mode is a feature that runs the generator at a lower RPM for a five or twelve-minute test. This not only makes Generac generators quieter than competitors during the testing process but also saves on fuel consumption.
The G-Force Engine, designed specifically for generator use, is pressure-lubricated and built to endure rigorous demands. As a result, it offers more reliable power and requires less regular maintenance compared to other engines.
Generac provides 24/7/365 Customer Support Team assistance from their headquarters in Wisconsin, ensuring that any questions or concerns are addressed promptly.
Their RhinoCoat™ powder-coated finish adds corrosion resistance to the aluminum body, making Generac generators suitable for all weather conditions.
The Evolution™ Controller, equipped with a multilingual LCD display, enables users to monitor battery status and track maintenance intervals, ensuring the generator remains in optimal operating condition at all times.
True Power™ Electrical Technology
Two-line multilingual LCD Evolution™ controller (English/Spanish/French/Portuguese)
Two transfer switch options available:

100 amp 16 circuit switch or
200 amp service-rated switch

Electronic governor
System status & maintenance interval LED indicators
Sound attenuated enclosure
Flexible fuel line connector
Direct-to-direct composite mounting pad
Natural gas or LP gas operation
5 Year limited warranty