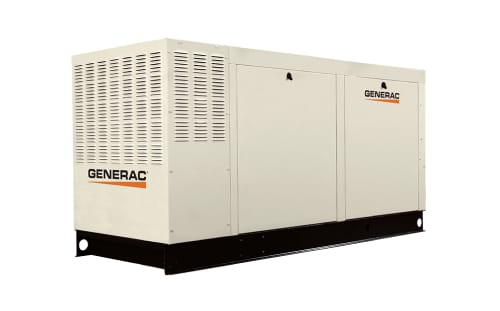 Generac Commercial 70kW Standby Generator
Brand: Generac
Equipment Price: starting at $18969
The Generac QT070 is a high-performance and durable generator built for commercial and industrial use. One of Generac Generators' most popular models, this generator is designed to provide reliable backup power for large establishments and critical systems during prolonged outages. Carolina Energy Systems proudly offers the Generac QT070, ensuring commercial and industrial customers have access to a robust and dependable power solution supported by their expertise in backup power systems.
Higher Power Nodes for Large Applications
Our generators are designed to deliver higher power nodes, making them ideal for running large applications and powering critical systems. Whether it's for industrial, commercial, or residential use, our generators provide reliable and efficient performance.
Versatile Output Options
With both single and three-phase output capabilities, our generators offer the flexibility to accommodate various voltage requirements. So, no matter the setup, you can rest assured that your power needs will be met.
Liquid-Cooled Engines
For optimal performance, our generators come equipped with advanced liquid-cooled engines. These engines are available in both low and high-speed options, ensuring smooth and efficient operation even under demanding conditions.
Durable Enclosure Choices
Choose from our two premium enclosure options to safeguard your generator from the elements. The aluminum, all-weather enclosure not only provides substantial protection but also boasts exceptional corrosion resistance, ensuring a prolonged generator lifespan. This makes it the perfect choice for salt-air and coastal communities. Alternatively, opt for the sturdy galvanneal steel enclosures, coated with a durable powder-coat finish, providing added weather protection.
Fuel Flexibility
Our generators offer the convenience of continuous fuel choice between LP (liquid propane) or natural gas, allowing you to select the most suitable option for your specific requirements.
Intuitive Nexus Digital Controller
Equipped with the Nexus Digital Controller, our generators feature a user-friendly interface with two lines of display, presenting information in three different languages. Easily check generator status, run time, and history at a glance.
Quiet-Test™ Mode
Thanks to the innovative Quiet-Test™ Mode, your Commercial Series home standby generator performs its weekly self-tests at a lower RPM. This ensures a quieter testing process while maintaining peak performance readiness.
Wireless Remote Monitoring
For enhanced convenience and peace of mind, wireless remote monitoring is available as an optional feature. Keep a close eye on your generator's performance from a distance, allowing you to respond promptly to any potential issues.
Two-line trilingual LCD Digital Nexus™ controller
Isochronous electronic governor
Closed coolant recovery system
Smart battery charger
UV/Ozone Resistant Hoses
±1% voltage regulation
Sound attenuated enclosure
Natural gas or LP gas operation
2 Year limited warranty