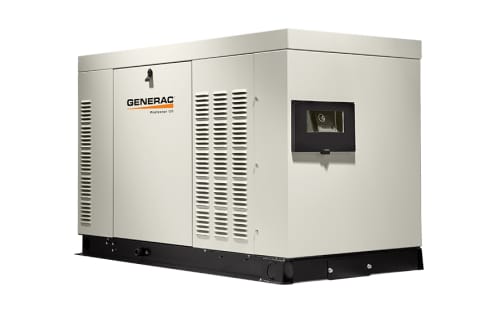 Generac 22kW Standby Generator
Brand: Generac
Equipment Price: starting at $11219
The Generac RG022 is a robust and efficient standby generator engineered to deliver reliable power backup for various applications, including residential and light commercial settings. One of Generac Generators' most popular models, this generator can handle the electricity needs of homes and small businesses during emergencies, ensuring uninterrupted functionality of essential appliances and equipment. Carolina Energy Systems proudly offers the Generac RG022, providing customers with a dependable and top-quality power solution supported by our expertise in backup power systems.
The best liquid cooled engine packs more power into a smaller footprint—ideal when space is a premium.  The neutral styling, color and small footprint fits unobtrusively into landscaping.
Quieter, Greener, More Powerful
The Protector QS Series features a state-of-the-art liquid-cooled engine that operates at a quiet 1800 rpm, offering powerful performance within a smaller footprint compared to air-cooled models. This efficient engine not only reduces fuel consumption but also extends the life of the engine and alternator.
Clean burning, continuous fuel choice of natural gas to LP.
The engine offers the choice of clean-burning fuels, from natural gas to LP, providing continuous and eco-friendly operation.
True Power™ Technology
The Protector QS Series ensures top-notch power quality with less than 5% total harmonic distortion (THD), ensuring smooth and reliable operation for sensitive electronics and appliances.
Evolution™ Controller
The cutting-edge Evolution controller boasts an intuitive design with a multilingual, two-line LCD text display, color-coded backlit buttons, and several upgrades like USB flash capability, smart battery charging, voltage adjustment, and backlit membrane pad style buttons.
5-year limited warranty with extended warranty options are available
To showcase our confidence in the product's innovative design and high quality, we offer a strong 5, 7, or 10-year limited warranty with the option to extend coverage.
Durable Steel & Aluminum Enclosures
The generator comes with a sturdy galvanneal steel enclosure featuring a durable powder-coat finish, providing exceptional weather protection. Additionally, businesses in coastal and salt-ware environments can opt for the aluminum enclosure, offering enhanced durability and corrosion resistance.
Quiet-Test™ Technology
Thanks to Quiet-Test, the Protector Series generator conducts its weekly self-test at a lower and quieter RPM. You can program the test to run weekly, bi-weekly, or monthly, ensuring the system's proper functioning without disturbance.
Mobile Link™ Connectivity

All Protector Series generators are equipped with Mobile Link, enabling you to monitor your generator's status from anywhere in the world using your smartphone, tablet, or PC. Access vital information such as the current operating status and the generator's maintenance schedule. Moreover, you can connect with authorized service dealers for fast and convenient assistance, ensuring your generator is always prepared for any outage.
Additional Features
The Protector QS Series comes with improved stub ups and electrical connection access, significantly reducing installation costs. With dual conductor rated connections and quick connects for control wires, the need for crimping or lugging is entirely eliminated, further simplifying the installation process.
True Power™ Electrical Technology
Two-line multilingual LCD Evolution™ controller (English/Spanish/French/Portuguese)
Two transfer switch options available:
Isochronous electronic governor
UV/Ozone Resistant Hoses
Sound attenuated enclosure
±1% voltage regulation
Natural gas or LP gas operation
5 Year limited warranty