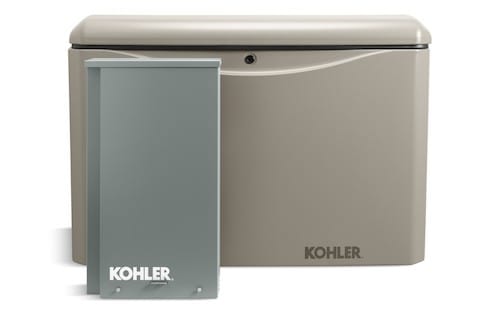 Kohler 20kW Home Standby Generator
Brand: Kohler
Equipment Price: starting at $5900
Explore the popular Kohler 20RCA, proudly offered by Carolina Energy Systems, as one of Kohler Generators' premier options for residential applications. Embrace a seamless power experience with this outstanding standby generator, meticulously engineered to provide consistent and trustworthy electricity during unexpected power outages. Rely on Kohler's well-established reputation for reliability and our expertise to ensure you stay powered when it matters most.
When the lights go out during an outage or storm, trust the hard-working 20 kW KOHLER® generator from Carolina Energy Systems to keep your appliances running, maintain a comfortable indoor environment with heating or AC, and ensure your security system stays active.*
Reliable. Count on Carolina Energy Systems to equip every KOHLER® generator with a heavy-duty, commercial-grade engine that can withstand even the most extreme weather conditions.
Powerful. Experience the speed and efficiency of our KOHLER generator, which restores power to a 5-ton (60,000 BTU) air conditioner, major appliances, and all your crucial electronics in just 10 seconds.*
Premium warranty. At Carolina Energy Systems, we've got your back with a comprehensive 5-year, 2,000-hour protection plan. Our corrosion-proof enclosure is built to last, safeguarding your investment for the long haul.
Award winner. Our KOHLER generators have earned accolades, including the prestigious Most Valuable Product (MVP) Award 2010 by Building Products magazine, reaffirming their top-notch quality.
Power
Experience the ultimate PowerBoost™ technology, empowering your generator to start large loads like central air conditioners without affecting power to other appliances.
Enjoy extraordinary peak motor-starting capacity, with options like 14RCAL at 33kVA at 240V and 20RCAL at 41kVA at 240V, providing even more power for your needs.
Our premium power quality ensures exceptional digital voltage and frequency regulation, along with minimal harmonic distortion, to safeguard your most sophisticated electronics.
Powered by the reliable KOHLER Command PRO® engine, specially designed and tested for tough commercial applications. Hydraulic valve lifters eliminate the need for lengthy break-in periods and costly valve adjustments, while operating at 3600 rpm, the standard for air-cooled generators.
Experience seamless compatibility with OnCue® Plus and OnCue® Plus Wireless Generator Management Systems, as well as the Programmable Interface Module (PIM).
Additionally, our generators work seamlessly with Load Control Module (LCM) or Load Shed kit for single-phase generators, ensuring efficient power management.
Convenience
Choose from either an RXT 100-amp indoor-rated automatic transfer switch with a 16-circuit load center or an RXT 200-amp outdoor-rated service entrance rated automatic transfer switch with a load shed kit, catering to your specific requirements.
The RDC2 controller, meticulously designed for today's sophisticated electronics, adeptly manages both the generator set and Model RXT transfer switch functions.
Enjoy quiet, neighborhood-friendly operation with sound levels comparable to a typical central air conditioner, ensuring a peaceful environment for you and your neighbors.
Our stylish corrosion-proof enclosure is impact tested to handle extreme conditions, providing unmatched protection for your generator even in temperatures as low as -30°F.
With dual-fuel capabilities, our generators run on either natural gas or liquid propane (LPG), allowing easy switching between fuel sources in the field.
Experience hassle-free installation with our simple terminal block for easy field connections. To further streamline the process, Carolina Energy Systems offers concrete mounting pads, reducing installation costs and saving you valuable time.
Model: 20RCAL
Rated kW LP: 20 kW
Rated kW NG: 18 kW
Amps LP: 83 amps
Amps NG: 75 amps
Peak Motor Starting kVA @240 V: 41 kVa
Alternator Note: All information shown is for 1 Phase 60 Hz generator with the largest alternator option available.
Displacement: 999 cm³ (61 cu. in.)
Horsepower: NG 27.1 HP, LP 30.9 HP
Enclosure Material: Aluminum
Sound Output During Weekly Exercise: 64 dB(A)
Sound Output During Full-speed Operation: 69 dB(A)
Response Time: 10 seconds
Warranty: Premium five-year limited warranty
Country of Origin: US
Certifications/Listings: EPA,CSA,UL 2200,cUL
Automatic Transfer Switch Included: Included
Remote Monitoring Available: Included
Off Grid / Utility Backup: Utility Backup
Weight: 600/611 lbs. (272/277 kg)
Alternator Type: 2-Pole, Rotating Field
Fuel Consumption on NG at 50% load?: 161 cfh
Fuel Consumption on LP at 50% load?: 82 cfh
Controller: RDC2 Controller
Cylinder Arrangement: V-2
Dimensions: 1193 mm x 666 mm x 817 mm (47 in. x 26.2 in. x 32.2 in.)
Engine Manufacturer/Description: KOHLER
Engine Model: CH1000
Engine/Alternator RPM: 3600
Fuel Type: Natural Gas,LPG
Frequency: 60 Hz
Phase: Single Phase or Three Phase
Voltage @ 60 Hz: 120/240|277/480
Digital Voltage Regulation: ±1.0%
Built in Mounting Pad: Yes