Whether you're replacing an existing unit or adding a new one, Carolina Energy Systems has you covered with all of your home generator installation needs. High-quality generators that are properly installed and premium customer service are at the core of our company. We make sure that the installation process happens as quickly, professionally, and cost-effectively as possible to keep you feeling safe and confident when the next power outage comes around.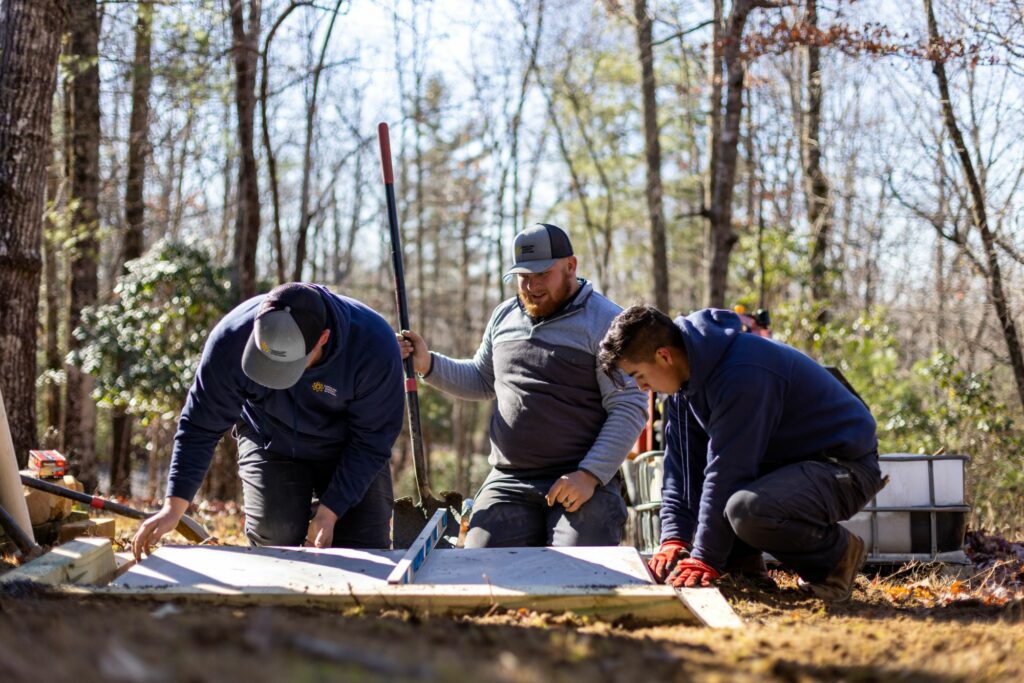 Pre-Installation: Qualifications & Logistics Consultation
Our process begins over the phone. Before scheduling a generator installation, we will perform our initial qualifications with the client during a call. The goal of this conversation is to:
educate you, the client, about the types of generators
gain knowledge about the logistics of your home electrical load
get a sense of your generator goals
provide you with an estimate of installation costs.
Understanding Your Generator Needs
We start with the basic questions to get a sense of your goals:
What are you looking for in a generator?
Are you looking to replace an old unit or install a new one?
Have you had a home generator previously?
Is your goal to have a generator that can operate the entirety of your home (whole house generator) or just the essential items (partial house generator)?
Finding Out The Electrical Load Of Your Home
Before our generator installer can recommend the right size of generator for your home, they need to first assess the electrical load of your home. This involves measuring how much power each appliance and device in your home requires to operate properly. The total amount of power required is referred to as the "electrical load" and it varies from house to house based on all the appliances and devices that are used in each one. Our generator installers use specialized equipment such as wattmeters or an ammeter clamp to measure the electrical load of your home so that they can determine what size generator you need for reliable backup power during outages.
During this part of the initial intake call, we will also ask about your home's water source (well water or city water) and your home's HVAC system. Having electric heat backup can impact the size generator we would recommend. We will also need to know about the type of fuel your home has access to, such as if your home has a propane or natural gas furnace, for example.
Portable Generator Vs. Standby Generator: Discussing Your Generator Options
Once we get a sense of your goals and your home's electrical load, it's time to discuss realistic generator options. During this part of the conversation, we can answer any questions that you have about
the generator brands we offer (i.e. Kohler, Generac, and Cummins)
the differences between standby generators and portable generators
the differences between and life-expectancy of air-cooled vs. liquid-cooled generators
the size and level of electrical power you need for your home
which options we would recommend for your particular situation
One of the main goals of a consultation is to determine if a standby generator or portable generator is the best option for you and your home. One of the main differences between the two is that a standby generator needs to be professionally installed onsite and integrated into your home's electrical system, whereas little to no installation is required for a portable generator.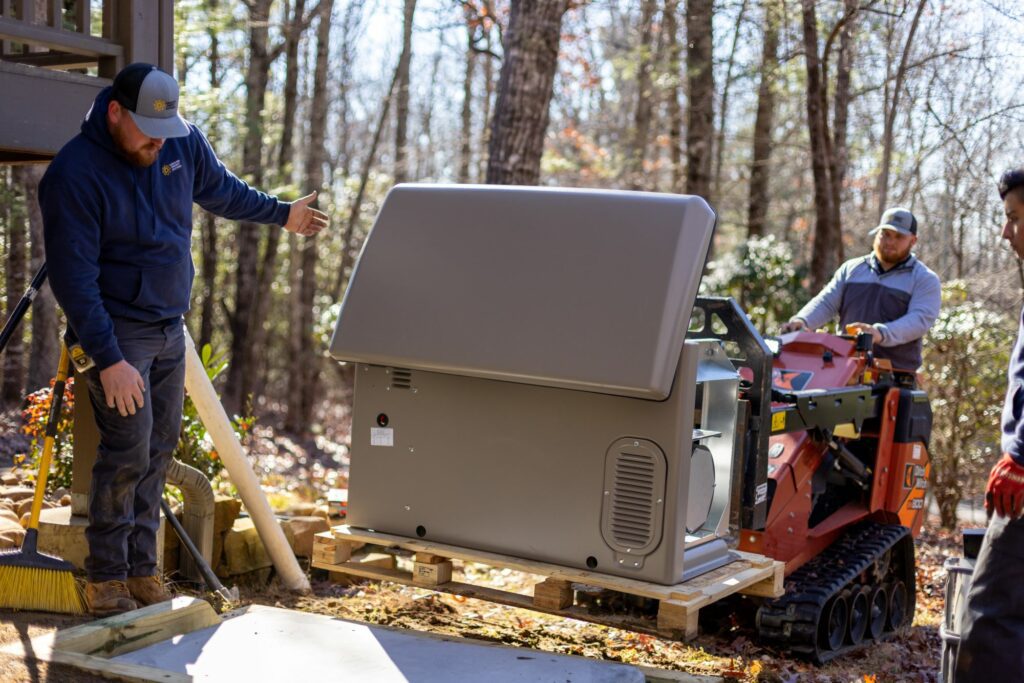 Additional differences between standby and portable generators include:
standby generators are automatic while portable generators need to be started manually
standby generators can accommodate much greater power needs compared to portable generators
standby generators also offer a much longer lifespan than portable generators, as they're typically serviced and maintained via an annual service agreement with your installer
Learn more about differences in generator type, fuel sources, and power output.
At Carolina Energy Systems, we specialize only in standby generators. If it's determined that you would only like a portable generator, we can point you in the right direction, but we do not sell, install, nor provide service for portable generators.
Estimating Installation Cost
Now is when we will also discuss some pricing scenarios. We'll get a sense of your price range, taking into account all aspects of what suits you and your situation then we'll give you our best estimate of installation costs without having surveyed the site in person.
Schedule An On-Site Visit
After we've answered your questions to the best of our ability and gathered the information about qualifications and logistics over the phone, we can go on to schedule an on-site visit to determine your needs exactly.
Preparing For Installation Day
Once you've worked with one of our representatives to decide on a system, there is typically a 4-8 week lead time before your standby generator is installed. During this lead time, the machinery for your generator will be delivered and you can schedule any subcontractors you may need for the installation (i.e. an electrician, or a gas plumber).
Generator Installation Day
The day has arrived! When your scheduled installation date comes around, you'll be grateful that you chose Carolina Energy Systems. The over-the-phone consultation and prep work pave the way for a quick and easy installation.
Step 1: Surface Preparation & Generator Placement
The optimal location for your generator is determined during a pre-installation on-site consultation, the following guidelines and clearances must be followed when choosing the generator installation site:
Pick a stable, well-drained area that is least prone to flooding
When choosing a site, make sure to consult the restrictions of your community and homeowners association.
Installing the generator closer to the electric meter and/or natural gas line may reduce costs.
Keep these general clearances in mind (depending on generator size and home materials there may be exceptions):

18 inches (1.5 feet) from your house
60 inches (5 ft) from doors, windows, fresh air intakes, and windows
Unit has to be accessible for service (no bushes or the like blocking access)
Once the site is determined, a poured-in-place or pre-cast concrete pad will be laid, then our team will place the generator on the prepared surface.
Step 2: Connecting To Your Home's Electrical System & Fuel Source
After moving the generator into place, our team electrician will begin the process of connecting the generator to your home's electrical system. This involves running cables from the generator to an automatic transfer switch, which is installed near your main electrical panel in order to monitor incoming power. Once connected, the transfer switch will detect any interruption in power and automatically turn on the standby generator.
In order to ensure the reliable operation of a standby generator, our gas plumbers will also need to connect it to a fuel system, whether that is liquid propane gas or natural gas. This is typically done by running a fuel line from an external tank or directly from your home's main gas supply. The technician will then make sure that all connections are secure and properly sealed so that no gas can leak out. They may also install safety systems such as sensors that detect any changes in pressure or temperature, as well as sensors to detect risks of carbon monoxide poisoning, ensuring that your family and the generator will remain safe during use.
Step 3: Testing & Finalizing The Installation
Once your generator is installed, the county or city jurisdiction will conduct an inspection in order to issue a permit for operation.
After the permit is issued, the technician will ensure that all connections to the electrical and fuel systems are secure and properly grounded before testing out the unit with a simulated power transfer (simulated blackout).
Testing a new generator with a simulated power transfer is an essential last step in the generator installation process as it ensures that all components of the system are functioning properly. The tests provide an opportunity to detect any problems before they cause major damage or disruption during an actual power outage.
Simulated power transfers allow technicians to closely monitor how the generator power responds and performs under various conditions, as well as make sure that the fuel system is operating properly.
After the testing is complete, our team will provide you with safety tips, a tutorial on how to operate your generator wit, and maintenance advice to ensure that your new standby home generator will offer years of reliable service.
Post-Installation: Maintaining Your New Generator
Once the generator has been successfully installed, it is important to take steps to ensure its continued safe operation. We recommend regular maintenance and servicing be carried out by one of our qualified technicians in order to extend the life of your generator and keep the system running efficiently and reliably. This includes inspecting all components of the generator, such as fuel lines, electrical connections, and wiring for any signs of wear or damage.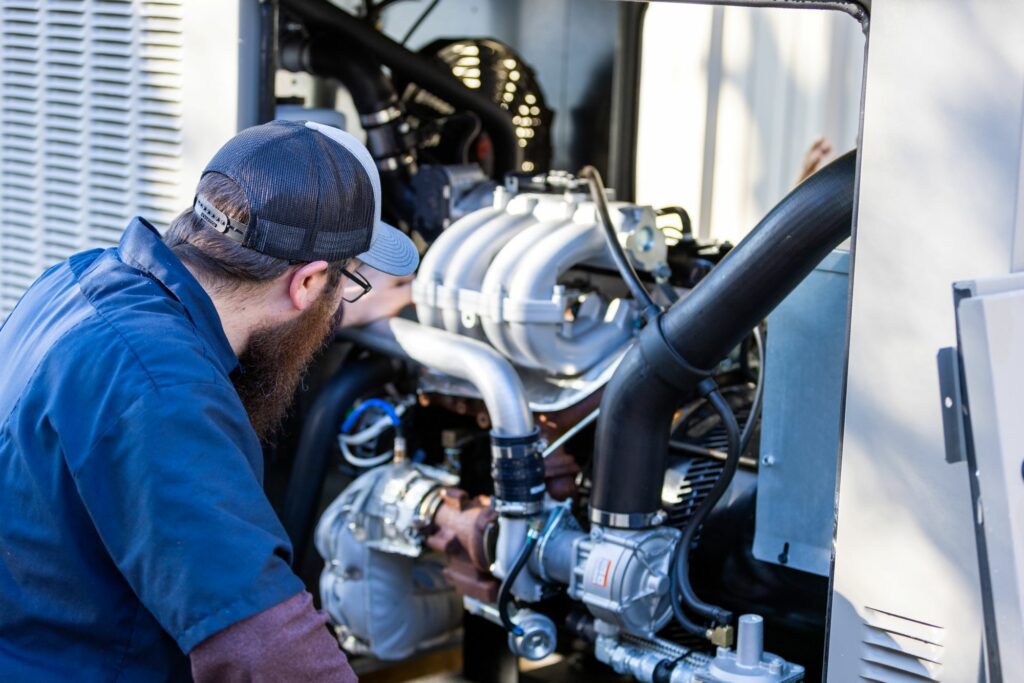 To save you from the hassle of scheduling maintenance and service calls throughout the years, we can incorporate a follow-up maintenance plan for you during the initial sales contract or during startup and training.
By investing in a standby home generator, you can be sure that your family will have access to an uninterrupted backup power supply during emergencies. Professionally installed and regularly maintained, these systems can provide you with the peace of mind that comes from knowing that your home is protected in case of power outages.
Call Carolina Energy Systems today with your generator installation and ongoing maintenance services!