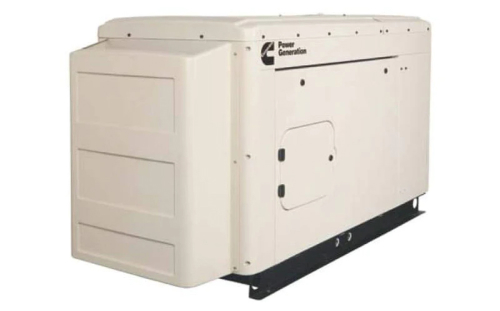 Cummins 50kW Standby Generator
Brand: Cummins
Equipment Price: starting at $20472
Robust Design and Testing: The generator is meticulously crafted to operate effectively under extreme environmental conditions, even capable of reliable cold weather starts as low as -40ºF. It undergoes rigorous testing and certification in line with the latest EPA, UL, and IBC Seismic standards. With the necessary accessories and proper installation, it can meet NFPA110 requirements.
Adaptable Exercise Mode: An innovative and versatile exercise mode empowers the generator to run at a time, frequency, and duration that align with the customer's preferences, potentially as briefly as 2 minutes every 6 months. This flexibility minimizes unnecessary fuel consumption, emissions, and noise.
Advanced Enclosure Design: The aesthetically pleasing enclosure incorporates specialized designs that result in the quietest generator of its kind. Constructed from aluminum and coated with durable powder paint, it delivers top-tier anti-corrosion performance. This enclosure has undergone thorough evaluation to withstand wind loads of up to 180 mph according to ASCE 7-10 standards. Its intelligent design includes removable panels and service doors, ensuring easy access for maintenance and servicing.
Integrated Control System: The standard PowerCommand® electronic control system provides seamless integration of the generator set, featuring automatic remote starting and stopping, precise regulation of frequency and voltage, clear display of alarms and status messages, output metering, automatic shutdown in case of faults, and compliance with NFPA 110 level 1 standards.
Efficient Self-Diagnostics and Maintenance: The PowerCommand® electronic control system sets an industry standard with its exceptional self-diagnostic capabilities. Additionally, key generator components are designed to facilitate swift and efficient servicing and preventive maintenance, minimizing downtime.
Engine
Natural gas/propane 1800 rpm engine
Engine air cleaner – normal duty
Electronic governor, isochronous
Engine starter, 12 VDC motor
Shutdown – low oil pressure
Extension – oil drain ·
Engine oil – included
Fuel system
Single fuel – natural gas or propane vapor, field selectable
Alternator
60 Hz, 1 phase, 4 lead, or 3 phase, 12 lead,
120° C temperature rise at 40° C ambient
Exciter/voltage regulator – torque match
Control
PowerCommand 1.1
Display language – English ·
Control mounting, right facing
Electrical
Single circuit breaker, UL certified, right-side mounted
Battery charging alternator, normal duty
Battery charger – 6 Amp, regulated
Cooling
Generator set cooling capability – 50° C
Shutdown – low coolant level
Engine coolant – 50/50 mixture
Extension – coolant drain
Enclosure
Aluminum enclosure Sound Level 1 with muffler installed, sandstone color
Wind rating – 180 mph
Code compliance
UL 2200
EPA emissions, emergency, stationary, 40CFR60
IBC Seismic
NFPA 110 capable
Generator set application
Coolant heater
Crank case vent heater
Large battery rack
Flexible fuel line ·
Literature (English) – operator's manual, installation quick guide and manual, service manual
Packaging
Shipping pallet, poly bag
Generator set performance
Governor regulation class: ISO 8528 Part 1 Class G3
Voltage regulation, no load to full load: ±1.0%
Random voltage variation: ±1.0%
Frequency regulation: Isochronous
Random frequency variation: ± 0.25% @ 60 Hz
Radio frequency emissions compliance: FCC code Title 47 part 15 Class B
Engine Specifications
Design: Naturally Aspirated
Bore: 102.1 mm (4.02 in)
Stroke: 119.9 mm (4.72 in)
Displacement: 5.9 liters (359 in3)
Cylinder block: Cast iron, in-line 6 cylinder
Battery capacity: 550 Amps at ambient temperature of 0° F to 32° F (-18° C to 0° C)
Battery charging alternator: 52 Amps
Starting voltage: 12-Volt, negative ground
Lube oil filter type(s): Spin -on with relief valve
Standard cooling system: 50° C (122° F) ambient cooling system
Rated speed: 1800 rpm
Fuel supply pressure
Minimum: kPa (in H2O): 1.5 (6.0)
Maximum: kPa (in H2O) 3.5 (14.0)