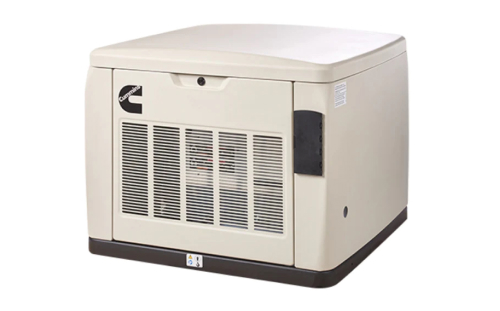 Cummins 17KW Standby Generator
Brand: Cummins
Equipment Price: starting at $4482
The Cummins RS17A Generator, available through Carolina Energy Systems, serves as a dependable and efficient standby power solution tailored for residential applications. This particular Cummins Generator model, widely favored among customers, offers uninterrupted backup power to vital household appliances and systems in the event of unforeseen power disruptions. Carolina Energy Systems extends access to the Cummins RS17A Generator, supported by our knowledge and dedication to providing reliable power solutions for homeowners.
Robust Design: The generator is engineered to operate effectively in cold weather, even at temperatures as low as 0°F (-18°C) without any modifications. Additional Cold Weather accessories enable it to function in even colder conditions. The unit is thoroughly tested and certified to meet the latest EPA, UL, and CSA standards, ensuring its safety and compliance. Moreover, it adheres to NFPA 37 regulations, allowing it to be installed just 18 inches away from a building. Its powerful motor starting ability enables it to effortlessly handle the full pre-load of a 5-ton A/C unit.
Flexible Exercise Modes: Owners have the freedom to set exercise modes based on their preferred time, date, and frequency. The generator offers a patented 'Crank only' exercise mode, enabling the engine to crank and perform diagnostics without actually starting the engine. This feature minimizes engine wear, reduces fuel costs, and makes the already quiet generator even more discreet.
Intelligent Load Management: The generator is equipped with intelligent load management capabilities, allowing it to control up to 4 loads independently. It continuously monitors the power requirements for each load and efficiently manages the distribution of generator power. By only restoring loads that the generator has sufficient capacity to handle, it ensures optimal utilization of available power.
Remote Monitoring: Every generator is equipped with remote monitoring functionality, providing convenience and ease of use. Operators can monitor, modify exercise modes, and manually run the generator remotely using a computer, tablet, or smartphone.
Generator and ATS Packaged Sets: The RS20AC package includes a 20 kW generator and a 200A service entrance rated Automatic Transfer Switch (ATS) conveniently housed in one box. This packaging simplifies the ordering process and ensures that all essential components are provided together.
Overall, this generator model offers a robust and reliable solution for cold weather operation, provides flexible exercise options, optimizes power distribution, and incorporates user-friendly remote monitoring capabilities to enhance convenience and efficiency. Additionally, the package includes a generator and ATS combination to meet all power supply needs in one convenient unit.
Engine
Engine air cleaner
Engine oil (Synthetic)
Oil drain extension tube
Low oil pressure shutdown
Low oil level warning or monitoring
Fuel system
Single fuel – natural gas or propane vapor, field selectable
(Set to Natural gas from factory)
Alternator
60 Hz, 1 phase, < 5% THD (total harmonic distortion)
Long life electrographic DC brushes
Slip ring heater
Control
Display language – English
Under hood built in display
Electrical
Single 100A circuit breaker, UL certified
(On all models)
Battery charging alternator
Battery charger – 4 Amps
Cooling
Single direct drive blower
Enclosure
Aluminum exterior, galvanized steel interior
Code compliance
UL 2200
CSA 22.2 and B149-2
EPA emissions
NFPA 37 – 18 inches
Generator set application
Governor regulation class
Voltage regulation, no load to full load: ±1.25%
Steady state voltage variation: ±1.25%
Frequency regulation: Isochronous
Steady state freq. variation: ±1.25% (±1.5% @ No load)
Operating temperature: 122 °F (50 °C) to 0 °F (-18 °C)
Warranty
Base: 5 years / 2000 hours
Extended warranties available
Packaging
Shipping pallet