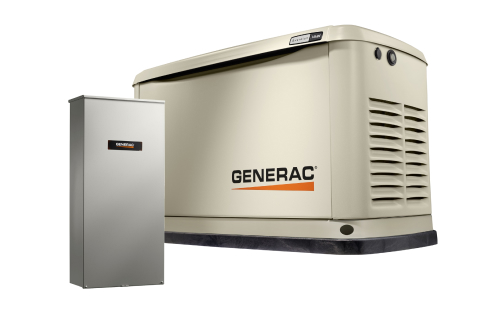 Generac 14kW Standby Generator
Brand: Generac
Equipment Price: starting at $4797
The Generac 14kW generator model, offered through Carolina Energy Systems, is a reliable and efficient standby power solution designed specifically for residential use. Highly regarded by customers, this Generac generator model ensures continuous backup power to essential household appliances and systems in case of unexpected power interruptions. Carolina Energy Systems provides access to the Generac 14kW generator, backed by our expertise and commitment to delivering dependable power solutions for homeowners.
Essential Circuit Power Protection: This automatic standby generator provides vital power protection for your home, ensuring that essential appliances and systems stay operational during power outages. It's an affordable solution, costing about half as much as central air conditioning.
5 Year Limited Warranty for automatic standby generators.
True Power™ Technology delivers best-in-class power quality with less than 5 percent total harmonic distortion for clean, smooth operation of sensitive electronics and appliances.
Generac generators and engines are engineered and assembled in the USA.*
Assembled in the USA using domestic and foreign parts.
Generac's G-Force Engine is a purpose-built, pressure-lubricated engine capable of handling the rigors of generator use, resulting in power that's more reliable and requires less routine maintenance than any competitive engine.
24/7/365 Customer Support Team stands by all day, every day from their headquarters in Wisconsin to answer any questions you might have.
Quiet-Test™ Self-Test Mode runs at a lower RPM for a five or twelve-minute test, making generators significantly quieter than other brands while consuming less fuel.
Tough, Durable All-Aluminum Enclosures: The RhinoCoat™ powder-coated finish helps make corrosion-resistant aluminum perfect for all weather conditions.
Smart, User-Friendly Controls. Generac's Evolution™ Controller features a multilingual LCD display that allows users to monitor battery status and track maintenance intervals to ensure the generator is always in top operating condition.
Mobile Link™ Remote Monitoring is included for free with every Guardian Series Home standby generator. It allows users to monitor the status of the generator from anywhere in the world using a smartphone, tablet, or PC. Users can easily access information, such as the current operating status and maintenance alerts.
True Power™ Electrical Technology
Two-line multilingual LCD Evolution™ controller (English/Spanish/French/Portuguese)
Two transfer switch options available: 100 amp 16 circuit switch or 200 amp service rated smart switch
Electronic governor
Standard Wi-Fi® connectivity
System status & maintenance interval LED indicators
Sound attenuated enclosure
Flexible fuel line connector
Natural gas or LP gas operation
5 Year limited warranty