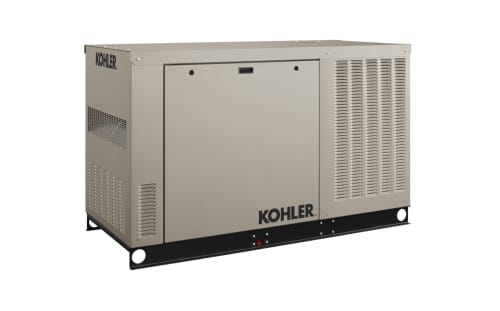 Kohler 38kW Home Standby Generator
Brand: Kohler
Equipment Price: starting at $16170
Carolina Energy Systems proudly offers the Kohler 38RCLC Generator, an exceptional standby power solution renowned for its robust performance. One of Kohler Generators' most popular models, this generator is well-equipped to handle the power needs of larger residential properties or small businesses during blackouts. Count on Carolina Energy Systems' expertise and support to provide seamless access to the Kohler 38RCLC Generator, ensuring reliable and uninterrupted electricity when it's needed most.
Experience the utmost reliability in power, tailored to meet both large residential and small business needs. With Carolina Energy Systems, your worries about bad storms or power failures are a thing of the past, thanks to our robust 38 kW KOHLER® generator equipped with an industrial-grade engine. Whether it's your home's central air, sump pump, or personal computers at your business, we ensure everything stays up and running smoothly.*
Powerful. Our KOHLER generator springs into action, restoring power in just 10 seconds, ensuring you stay connected to the activities you love.
Smart. Count on us to provide a consistent, high-quality power supply that shields your electronics from damage often caused by low-quality power sources.
Premium warranty. At Carolina Energy Systems, we've got you covered with our 5-year, 2,000-hour protection plan, all housed within a durable aluminum enclosure built to last.
Quiet. We take pride in being neighborhood-friendly, with our weekly exercise volume comparable to that of a normal conversation.
Innovative. Our generator boasts patent-pending innovations, including a three-fan, automotive-style cooling system designed to keep sound levels down.
Power
Experience powerful performance on either natural gas or liquid propane (LPG) with our 38RCLC model, providing 158 amps on LPG and natural gas.
Prepare for extraordinary peak motor-starting capacity with our 38RCLB model, offering 74kVA at 240V, ensuring you have the power you need for any situation.
Our premium power quality delivers exceptional digital voltage and frequency regulation, along with remarkably low levels of harmonic distortion, safeguarding your most sophisticated electronics and appliances.
Powered by the Kohler KG2204T industrial-grade engine, featuring hydraulic valve lifters that eliminate the need for lengthy break-in periods and expensive valve adjustments. Operating at 1800 rpm, this engine is designed for optimal performance.
Enjoy seamless compatibility with OnCue® Plus and optional OnCue® Plus Wireless Generator Management Systems, as well as the Programmable Interface Module (PIM) and Load Control Module (LCM) or Load Shed kit (LCM or Load Shed Kit compatible with single-phase generators only).
Convenience
The RDC2 controller, tailored for today's sophisticated electronics, adeptly manages both the generator set and Model RXT transfer switch functions.
Experience extremely quiet operation, with sound levels reaching only 62 dBA at full speed and 54 dBA during exercise, ensuring a peaceful environment for you and your neighbors.
Our corrosion-resistant aluminum enclosure is a standard feature, ensuring your generator stays protected and performs optimally for years to come.
With dual-fuel capabilities, our generator runs on either natural gas or liquid propane (LPG), making switching between fuel sources a breeze right in the field.
Experience streamlined installation with our simple terminal block for easy field connections, saving you valuable time and effort.
Rest assured, our new RCL generators are listed and labeled to meet NFPA 37 requirements for installations as close as 18 inches. Simply follow proper installation guidelines for clearance to windows, doors, and air intakes per the installation manual and local codes.
Model: 38 kW
Rated kW LP: 38 kW
Rated kW NG: 158 amps
Amps LP: 158 amps
Amps NG: 74 kVa
Peak Motor Starting kVA @240 V: All information shown is for 1 Phase 60 Hz generator with the largest alternator option available.
Alternator Note: 2.2 L (134 cu. in.)
Displacement: 64 HP
Horsepower: Aluminum
Enclosure Material: 54 dB(A)
Sound Output During Weekly Exercise: 62 dB(A)
Sound Output During Full-speed Operation: 10 seconds
Response Time: Premium five-year limited warranty
Warranty: US
Country of Origin: UL 2200,EPA,CSA
Certifications/Listings: Sold Separately
Automatic Transfer Switch Included: Included
Remote Monitoring Available: Utility Backup
Off Grid / Utility Backup: 1370 lbs. (621 kg)
Weight: 4-Pole, Rotating Field
Alternator Type: RDC2 Controller
Fuel Consumption on NG at 50% load?: Inline-4 cylinder
Fuel Consumption on LP at 50% load?: 1880 mm x 836 mm x 1146 mm (74 in. x 32.9 in. x 45.1 in.)
Controller: KOHLER
Cylinder Arrangement: Residential Powertrain KG2204T, 2.2 L, 4-Cycle, Turbocharged
Dimensions: 1800
Engine Manufacturer/Description: LPG,Natural Gas
Engine Model: 0=50 Hz, 1=60 Hz
Engine/Alternator RPM: Single Phase or Three Phase
Fuel Type: 120/240
Frequency: ±1.0%
Phase: No
Voltage @ 60 Hz: Yes
Digital Voltage Regulation: Yes
Built in Mounting Pad: Yes