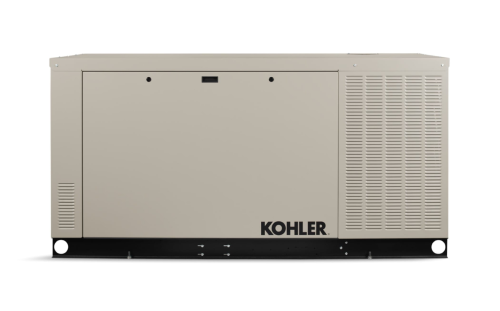 Kohler 48kW Standby Generator
Brand: Cummins
Equipment Price: starting at $18450
The Kohler 48RCLC Generator, supplied by Carolina Energy Systems, stands as a premier choice for standby power generation, catering to the needs of large residential estates and small businesses. As one of Kohler Generators' most sought-after models, this generator effortlessly ensures the uninterrupted supply of power to vital appliances and systems during unexpected outages, guaranteeing continual comfort and peace of mind. Carolina Energy Systems is pleased to present the Kohler 48RCLC Generator, delivering a reliable solution supported our extensive expertise and exceptional service.
Reliable power is assured for both large residential estates and small business operations. When a severe storm or power outage strikes, your 48 kW KOHLER® generator, featuring an industrial-grade engine, ensures that your home or business remains operational, from central air and sump pumps to personal computers and more.*
Powerful: In just 10 seconds, your KOHLER generator automatically restores power, allowing you to stay connected to your everyday activities.
Smart: You benefit from a stable, high-quality power supply that safeguards your electronics from potential damage associated with low-quality power sources.
Premium Warranty: We've got you covered with a 5-year, 2,000-hour protection plan, complemented by a durable aluminum enclosure built for longevity.
Quiet: Designed to be neighborhood-friendly, with weekly exercise volume similar to a typical conversation.
Innovative: This generator features patent-pending innovations, including a three-fan, automotive-style cooling system that keeps noise levels down.
Power
Fuel Flexibility: Operates efficiently on either natural gas or liquid propane (LPG); the 48RCLC provides 200 amps on both fuels.
Extraordinary Peak Motor-Starting Capacity: The 48RCLB model boasts an impressive 113 kVA at 240V, ensuring reliable power startup.
Premium Power Quality: Delivers exceptional digital voltage and frequency regulation, along with remarkably low levels of harmonic distortion, safeguarding sophisticated electronics and appliances.
Kohler KG6208 Industrial-Grade Engine: Featuring hydraulic valve lifters that eliminate the need for lengthy break-in periods and expensive valve adjustments, operating at 1800 rpm ensures dependable performance.
Compatibility: Seamlessly works with OnCue® Plus and optional OnCue® Plus Wireless Generator Management Systems, as well as the Programmable Interface Module (PIM).
Convenience
RDC2 Controller: Engineered to manage both the generator set and Model RXT transfer switch functions, catering to today's sophisticated electronics.
Extremely Quiet Operation: Operating at 61 dBA at full speed and 57 dBA during exercise (equivalent to a normal conversation), it ensures minimal disturbance.
Corrosion-Resistant Aluminum Enclosure: Standard to withstand the elements.
Fuel Switching: Easily switches between natural gas and LPG in the field.
Streamlined Installation: Including a simple terminal block for easy field connections.
NFPA 37 Compliant: These new RCL generators are listed and labeled to meet NFPA 37 requirements for installations as close as 18 inches. Please adhere to proper installation guidelines for clearance to windows, doors, air intakes, as per the installation manual and local codes.
*Based on generator and load size.
Model: 48RCLC
Rated kW LP: 48 kW
Rated kW NG: 48 kW
Amps LP: 200 amps
Amps NG: 200 amps
Peak Motor Starting kVA @240 V: 113 kVa
Alternator Note: All information shown is for 1 Phase 60 Hz generator with the largest alternator option available.
Displacement: 6.2 L (378 cu. In.)
Horsepower: 103 HP
Enclosure Material: Aluminum
Sound Output During Weekly Exercise: 57 dB(A)
Sound Output During Full-speed Operation: 61 dB(A)
Response Time: 10 seconds
Warranty: Premium five-year limited warranty
Country of Origin: US
Certifications/Listings: EPA,CSA,UL 2200
Automatic Transfer Switch Included: Sold Separately
Remote Monitoring Available: Included
Off Grid / Utility Backup: Utility Backup
Weight: 1690 lbs. (767 kg)
Alternator Type: 4-Pole, Rotating Field
Controller: RDC2 Controller
Cylinder Arrangement: V-8
Dimensions: 2280 mm x 836 mm x 1182 mm (89.8 in. x 32.9 in. x 46.5 in.)
Engine Manufacturer/Description: KOHLER
Engine Model: KG6208, 6.2L, Natural Aspiration
Engine/Alternator RPM: 1800
Fuel Type: LPG, Natural Gas
Frequency: 0=50 Hz, 1=60 Hz
Phase: Single Phase or Three Phase
Voltage @ 60 Hz: 120/240
Digital Voltage Regulation: ±1.0%
Built-in Mounting Pad: No
NFPA 37 Reduced Setback: Yes